Telecommuting IT Support Jobs: Guide To Find Them
|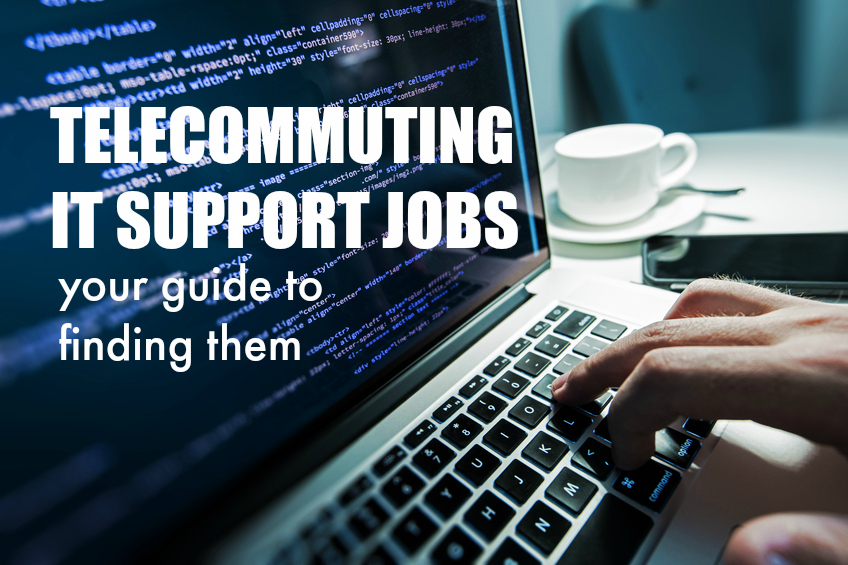 The rapid proliferation of software as an essential part of business operations has created a huge demand for skilled telecommuting IT support jobs filled by professionals. Telecommute positions have also increased notably over the years as the nature of software support is ideal for working in a freelance capacity.
In fact, the Bureau of Labour Statistics reports that employment for software development will leap by 17% in the coming years. So what implications does an increase in software development have for software support jobs?
Well, it is clear that businesses and individuals who operate in the digital space have a continuous need for technical support. The updating of IT equipment as well as testing and debugging of software is a key component of the job. While it largely depends on the type of support needed, many professionals can work from a remote position.
What is the Job Description of a Telecommuting IT Software Support Technician?
As an IT Software support technician, your primary responsibilities will vary according to the industry that you operate within and the nature of support required.
Your general role will necessitate that you join efforts with various teams within an organization. Let's say that new technologies have been implemented to facilitate the growth of a business. Software support personnel would have to collude with other employees to ensure that these technologies are being utilized for maximum efficiency. If any adjustments are to be made to both software and hardware, they should be proficient in making the necessary changes.
At times, software support may be called upon to provide training to users when new systems are installed or major updates have taken effect. In addition, they are responsible for monitoring systems and taking inventory of all the hardware that is in use in an organization.
To be a competitive candidate you should have the following core competencies:
· Troubleshooting skills on various operating systems
· A strong working knowledge of computer systems and their software applications
· Customer service skills and the ability to instruct users who are not tech-savvy
· An thorough understanding of networking.
· Ability to test and service equipment
The likelihood of landing an ideal job as a software support technician can improve significantly with formal training and special qualifications. In fact, many IT professionals have obtained an associate's or bachelor's degree in an IT related field. It is possible to be just as competitive with specialized certification. Not only do these certifications enhance your chances of landing a job, they also help with acquiring key technical expertise that are essential for professional growth.


Here are the five top qualifications and training programs that will help propel a career as a software support technician:
· CompTIA A+ Certificate
· Cisco Certified Network Associate (CCNA)
· Microsoft Certified IT Professional (MCITP)
· Microsoft Certified Solutions Expert (MCSE)
· HDI-Support Center Analyst (HDI-SCA)
Industries That Allow Telecommuting IT Software Support Jobs
Two decades ago, the use of software in business was restricted on a small scale. We're now in a place where every business offers some sort of software based service or product. This presents a huge opportunity for IT support professionals as many industries require software support for their technical processes.
The big players in that regard include:
· Entertainment and Gaming Industry
· Manufacturing Industry
· Finance Industry
· Education Industry
· Communications Industry
· Pharmaceutical Industry
· Other Automotive Related Industries
As you can imagine, the opportunities are truly endless. Within these industries, there are specific positions that may better suit your interests and competencies.
Types of Telecommuting IT Software Support Jobs
Telecommuting Network Administrator
Network Administrators are generally focused on network components like maintenance of hardware and software. Duties include:
· The evaluation of network management software
· Training users on the best practices when using software and telecommunication systems
· Pinpointing weaknesses in systems and implementing the necessary solutions
· Being able to identify security breaches
Telecommuting Systems Administrator
As the name suggests, a telecommuting systems administrator is primarily concerned with the technological systems in an organization. Duties include:
· Handling of confidential data
· Installation and configuring of operating systems
· Troubleshoot problems with hardware and software
· Implement standards and procedures for systems
· Handling backup procedures
Telecommuting IT Project Manager
This is a more dynamic position that includes both technical based competencies and leadership qualities. It is based on the planning and successful execution of certain projects to support business goals. Duties include:
· Ensure that team members are engaged with the project
· Implement risk management strategies in the event of complications
· Accurate resource estimation and allocation
· Assign individual tasks to team members according to their skills
· Set budgets, scope of project, and project deliverables
· Collaborate with engineers to develop and test software and new systems
While many of these software telecommuting jobs overlap both in terms of the duties and skill set required, they do have trademarks that are unique to their field.
Finding Telecommuting IT Software Support Jobs
IT software support encompasses a multiplicity of functions and can range from high-level to low-tier positions. Whatever your interests are, opportunity abounds when it comes to sourcing and acquiring the job that you want.
Here's what we recommend:
Enlist the Help of an IT Staffing Agency
The primary modus operandi of a staffing agency is to serve as the middleman between top talent and prospective employers. There are agencies that specialize in IT recruitment that can help connect you with an ideal organization. The reality is, many businesses trust and prefer the convenience of an agency that will meet their staffing challenges. As such, these agencies have established connections and strategic partners that allow them to match IT professionals with the right job. Some agencies include:
Join a Freelance Employment Platform
Freelance platforms like Upwork and Guru have established global networks of freelance professionals and employers who are eager to collaborate with each other. They allow members to build a portfolio and gather social proof via client feedback. Many of the top platforms also have payment protection services to establish a trusted working environment. It is also important to note that success on a freelance platform is largely dependent on your proactivity in building a network and showcasing your skills.
Explore Job Boards
In addition to Staffing Agencies and Freelance platforms, there are an infinite number of sites that aggregate telecommuting job opportunities in every industry. Here are the most common job boards:
· Indeed – This is a search engine that can be used to conduct job searches. They aggregate listing from company websites, newspapers, staffing firms, and other job boards. Beyond job searches, other functions include industry trends, salary research, job trends, and resume upload.
· LinkedIn – LinkedIn is a social media platform that is fuelled by professional networking. You can find connections, build a profile, and nurture relationships with recruiters and businesses.
· Flexjobs – Flexjobs is one of the premier telecommuting job aggregators online. All their jobs are pre-screened to ensure legitimacy. In addition to publishing remote job openings, they create profiles on companies that provide ample telecommuting opportunities.
· Virtual Vocations – Virtual Vocations also have one of the largest online databases of hand screened telecommuting jobs. It's simply a matter of creating an account and uploading job application documents into their systems.
8 Companies That Hire for Telecommuting IT Support Jobs
There are many companies that are predominantly dependent on telecommuting IT software support professionals to take care of their technical processes. Here
Headquartered in Round Rock, Texas, Dell is one the most renowned tech companies globally. As a leading PC vendor, the company provides a range of opportunities for remote jobs. Their positions include systems consultants and software support.
Apple usually has openings for software and technical support. The jobs available fall mostly within the scope of customer service. Working for Apple as a software support technician will require strong interpersonal skills and ability to solve technical problems with ease.
Adobe provides a range of software based solutions to industries as well as individuals in creative professions. Telecommuting positions include software quality specialists and support technicians.
Xerox manufactures document technologies like photocopiers, printers, and scanners. Having been in operation from 1906, they have offices in over 150 locations. Xerox has a plethora of IT telecommuting jobs including systems support and systems delivery management.
Being the leading online retailer in the world, Amazon offers many products that are tech-based. The company frequently hires customer tech support professionals and software developers.
Compucom Systems provide industry-leading management solutions to businesses. They offer telecommuting IT software support jobs in a range of industries. Strong interpersonal and communication skills are among the qualities that they look for in employees.
Time Warner is based in the communications and entertainment industries. The company is headquartered in New York but there are many telecommute jobs available for those interested in IT software support.
Founded in 1998, Advise Tech is a giant in the IT solutions industry. Opportunities for telecommuting jobs are not as abundant as the other companies on this list but they do have occasional openings.