Telecommuting Customer Service Jobs: Guide to Find Them
|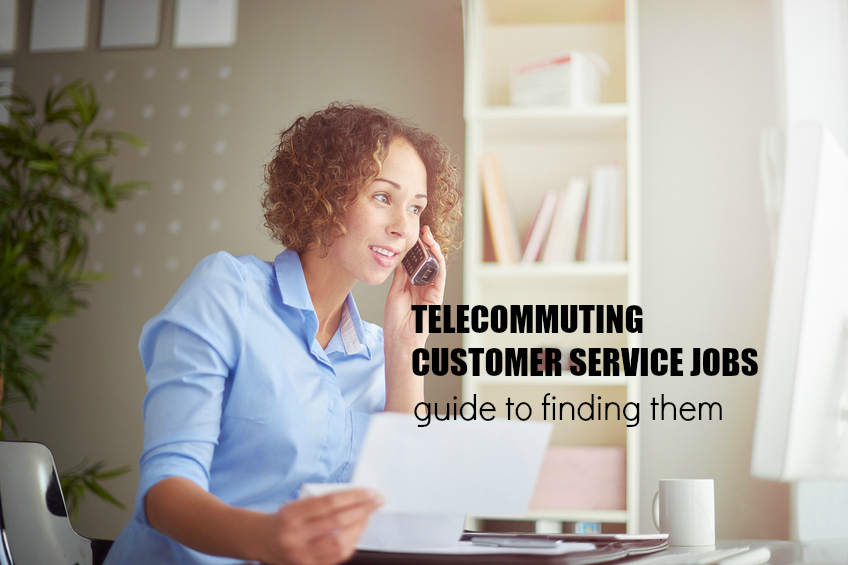 With an abundance of entrepreneurs selling items online, Telecommuting Customer Service Jobs are becoming more in demand.
While e-commerce growth itself isn't high, the web sales are. 2015 seen 341.7 billion in online sales. To handle transactions and customer inquiries, big name companies like Amazon and Apple are expanding their reach by offering telecommuting customer service jobs.
In fact, according to FlexJobs 100 Top Companies, both of these corporations — and plenty more – are currently hiring.
If you're looking to nab a telecommuting customer service job, you need to understand how the job description and methods of communicating with customers differs compared to working within a store. You still provide information about products, answer customer questions, and address complications — but the face-to-face interaction is gone.
What companies are looking for when hiring for telecommuting customer service jobs are divided into two categories: customer service qualifications and technical requirements.
TELECOMMUTING CUSTOMER SERVICE JOBS DESCRIPTION
First, it's important to note different companies call their customer service staff by different titles. When using online directories, plugging in these customer service titles may give better results. Here are a few common customer service job titles:
Customer service representative

Customer service associate

Customer service agent

Customer service – technical support rep(resentative)

Customer experience improvement

Work at home agent
TELECOMMUTING CUSTOMER SERVICE REQUIREMENTS
These jobs often have the same general description. To be hired, a person needs to demonstrate:
Sales experience

Discipline to work remotely

Excellent verbal and listening skills

A passion for service focused on the customer

Able to adapt approach to different communication styles

1 – 5 years experience in a customer service environment

Experience interacting with customers in some capacity (either via phone, chat, in person, etc.)
TELECOMMUTING CUSTOMER SERVICE TECHNICAL REQUIREMENTS
Because you'll be interacting with customers from a distance, you'll need to meet technical requirements. This is because all interaction with customers will happen through various hardware and software technologies. Common qualifications for telecommuting customer service jobs include:
Secure, high-speed internet (Wired Cable or DSL service – no wireless)

A desktop computer (often Windows)

A secure phone line

Quiet space, free of any background noise

Headset to listen to calls and communicate via microphone
Each company will have different technical requirements. The company Sitel requires a specifically-sized monitor (19") and minimum upload speeds of 1.5MBS and download speeds of 3.0 MBS. While Amazon requires PCs to have Windows 8.1, Windows 10, or OSX 10.9, 10.10, 10.11 with Windows Auto Update and Windows Defender.
Always note the technical specifications for telecommuting customer service jobs. It's rare that one company has the exact same specifications as another because technology is constantly upgrading.
TELECOMMUTING CUSTOMER SERVICE COMMUNICATION METHODS
Face-to-face customer interaction is rarely an option while working as a telecommuting customer service representative. Instead, customers will call, email, or talk to you via live chat on company websites.
42% of customers choose live chat as their preferred method of receiving customer support. And 94% of all online retailers provide customer service via email. This is why a reliable internet connection is crucial to telecommuting customer service jobs.
It's not too tricky, but it's best to understand how each method works.
LIVE CHAT
A live chat is when a customer contacts customer service through a portal on the website. This is strictly through typing in real time — not voice or face communication. This method relies on responding quickly and efficiently.
A customer will contact you to discuss a problem related to company products, billing information, and for technical troubleshooting. This method of helping customers can take anywhere from 5 minutes to 20+ minutes depending on the customer and the reason for contact.
A stable internet connection and a highly optimized computer is necessary for this line of communication.
EMAIL
Email is a more passive communication method than live chat. Customers may contact a company directly through email, or submit a support ticket to address a problem they have. You may be assigned a customer (strictly through email) to solve their problem.
Because this isn't a live method of communication, response times from a customer may be much slower, which means the problem will take longer to solve compared to live chat or phone calls.
PHONE CALLS
This is the most common form of interaction between a customer and yourself while working in a telecommuting customer service job. A stable internet connection will be required to see customer account information. And a headset is necessary to take the call and communicate directly with the customer.
Companies will provide training in all three of these methods of communication. They may also supply you with a headset that works directly with their programs. An average shift while working in telecommuting customer service jobs means you may use all three of these methods at any given time.
TELECOMMUTING SCHEDULES WITH FLEXIBILITY
On top of providing excellent customer service while meeting company technical requirements, you'll also need to have an open schedule. Telecommuting customer service jobs don't follow a 9-5 schedule because companies may offer services 24 hours a day, 7 days a week.
For example, the hours of operation for Amazon's Virtual Contact Centre are 3AM – Midnight Pacific. They also expect you to be flexible and accept days, afternoons, evenings and at least 1 weekend work schedule.
Hours differ by company, but a flexible schedule will be expected by most. When preparing your cover letter, stress your availability as open, while also mentioning your strong customer service background, strong communication skills, and tech savviness.


6 COMPANIES THAT HIRE FOR TELECOMMUTING CUSTOMER SERVICE JOBS
Apple refers to their telecommuting customer service jobs as At Home Advisors. At Home Advisors discuss new products, answer product inquiries, and provide technical troubleshooting. Because Apple is a hardware and software company, previous knowledge about each of their products (iMac, Macbook Pro/Air, iPad, iPhone, iPod Touch and Apple Watch) will be a large benefit.
At Home Advisors receive discounts on select products and paid time away, with the chance to become At Home Team Managers and At Home Area Managers. Managers supervise At Home Advisors, similar to how a manager in a store oversees their employees.
Amazon hires telecommute Customer Service Representatives and Customer Service Team Leaders. The Team Leaders oversee customer service teams and manage schedules and potential training. They work via the Virtual Contact Center from within 20 states.
Sitel is a people first company who focus on providing excellent experience and communication with customers. The job title is referred to as Work@Home Agents. They support companies in several industries including, insurance, retail (clothing, toys), travel & leisure, sports, and telecommuting industries.
TECHNICAL REQUIREMENTS
Must have high-speed internet via wired Cable or DSL service (no wireless or satellite)

Minimum Upload speed 1.5MBS and Download speeds 3.0 MBS

Stand-alone computer monitor – 19" minimum

Sitel equipment is not compatible with all-in-one PCs/laptops

Comfortable and ergonomically safe furniture and office set-up

Quiet, free of any background noise (we have a zero tolerance policy for noise)
TeleTech has over 2,000 TeleTech@Home agents. They provide 160 hours of training the first month for customer service, technical support, and sales/calls handling.
TELETECH TELECOMMUTE CUSTOMER SERVICE JOBS OFFERED
Technical Customer Service Representative

Customer Service/Sales Representative

Bilingual Customer Service/Sales Representative
TeleTech has a long list of technical/PC requirements, including hardware, software, and antivirus minimum requirements.
Convergys provides customer care to over 9 industries with their telecommute customer service jobs offered worldwide. They work for fortune 500 companies and offer employee benefits.
CONVERGYS TELECOMMUTE CUSTOMER SERVICE JOBS OFFERED
Sales & Service

Customer service

Technical Support Representatives.
TECHNICAL REQUIREMENTS
Own PC (less than six years old) with high-speed Internet service. Can work from a laptop, but will need to be hard-wired while working.
17" minimum monitor (capable of 1024 x 768). Televisions cannot be used as monitors.
A quiet, distraction-free, location in your home to work.
A telephone (landline or cell) for training and team calls. Not for incoming work calls; Internet connection is used for that.
Approved headset and flash drive; they're not required as part of the application process
Language Lines Solutions provides online access to translation, localization, and interpreting through phone and video. These positions are best for bilingual customer service representatives who will interpret and translate in various languages.
The job title is "interpreter" but will handle customer calls and inquiries fluently between English and another language ranging from Akan to Yemeni.

Level 5 Telecommuting-Friendly Career Industry Ranking
Telecommuting Customer Service Jobs are one of the most searched for remote jobs in the service industry as of 2016. With the rise in job seeker interest for these positions, the number of companies that are offering telecommute customer service positions and the level of telecommuting that can be provided, from partial to 100% telecommute, TelecommuteJobs.com has ranked this category of telecommuting customer service jobs as a Level 5, or most highly sought after telecommute position.